STONA 2023 is being organised by Federation of Indian Granite and Stone Industry (FIGSI) from 15th to 18th February 2023 at Bangalore International Exhibition Centre.
STONA and our most valued Indian clients witnessed our achievements in India since last 20 years, we won a good reputation with excellent product performance and stable quality. Nowadays our products has been spread to almost all industrial zones in India.
As one the most innovative company in diamond tools and stone machinery industry, WANLONG team is always dedicated to innovation and new product research and development based on extensive experience in India market. This time WANLONG is definitely coming to STONA 2023 with our latest technology.
OUR STALL NO.: Hall 2, Upper level 6 &16
DIAMOND TOOLS SECTOR
Cutting Tools
1. Segment for single & multi blade, segment for quarry,
2. Cutting blade, arrayed cutting blade is displayed as well which is softer than ever due to special spreading of diamond powders.
Calibrating & Polishing Tools
1. Disc abrasive - Metal disc, resin disc, buff
2. Fickert abrasive - Metal fickert, resin fickert, buff
3. Abrasive for marble
4. Calibrating tools for quartz - calibrating roller, diamond fickert, diamond shoes
Our abrasive products also received major technical breakthrough. In the past few years, it has been sufficiently verified. Affordable price and excellent performance has made it stand out in European and local products.
Other Tools
Drill bits, engraving bits
MACHINE SECTOR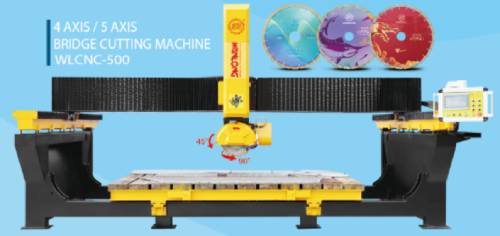 Multi blade cutting machine & Line polishing machine is the most important in a factory. However, with the continuous development of the stone industry and improvement of market demand, we need to pay more attention to fine processing to give stones more value and bring more sales growth.
WLCNC-500 4 aixs & 5 axis bridge cutting machine combines the feature of latest technology of European machines. Meanwhile you don't need to worry about complicated operation, one-click setting processing parameters.
1. Multi function with 15 basic cutting patterns, tiles, countertops, profiling etc.,
2. Advanced mechanical and intelligent electrical system
3. Easy operation, fully automatic, efficient cutting
This machine will be displayed at this exhibition, we sincerely invite you to our stall to operate this machine in person and experience the secrete of this machine.