WANLONG TIMES TECHNOLOGY CO., LTD
5 Axis CNC Laser Bridge Saw Machine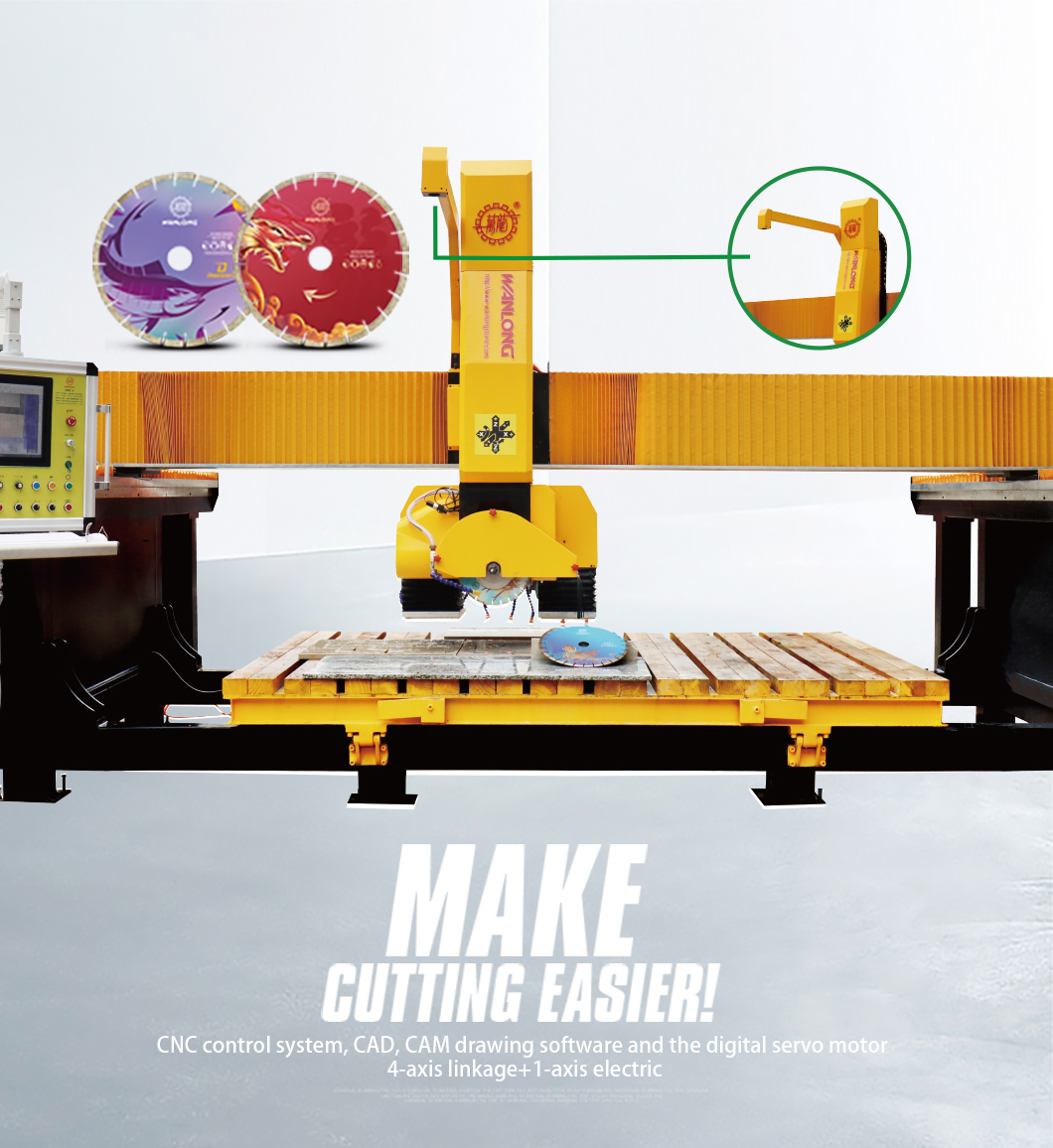 1. Main Function
Controlled by industrial computer, with RTCP function, which realized 5 Axis 5 linkage, our 5 Axis laser bridge saw machine has powerful function as:
Self-contained common cutting shapes choice
Camera location
Vacuum sucker moving slabs
Thickness measurement
Auto Blade adjusting function
Chamfering of any edges
Chamfering in length and breadth
DXF upload
Excel editing and typesetting
Countertop processing
Profiling available for all kinds as: Line profiling ,Arc profiling, wave profiling, column profiling, trapezoid profiling, groove profiling, arc wave profiling, trapezoid wave profiling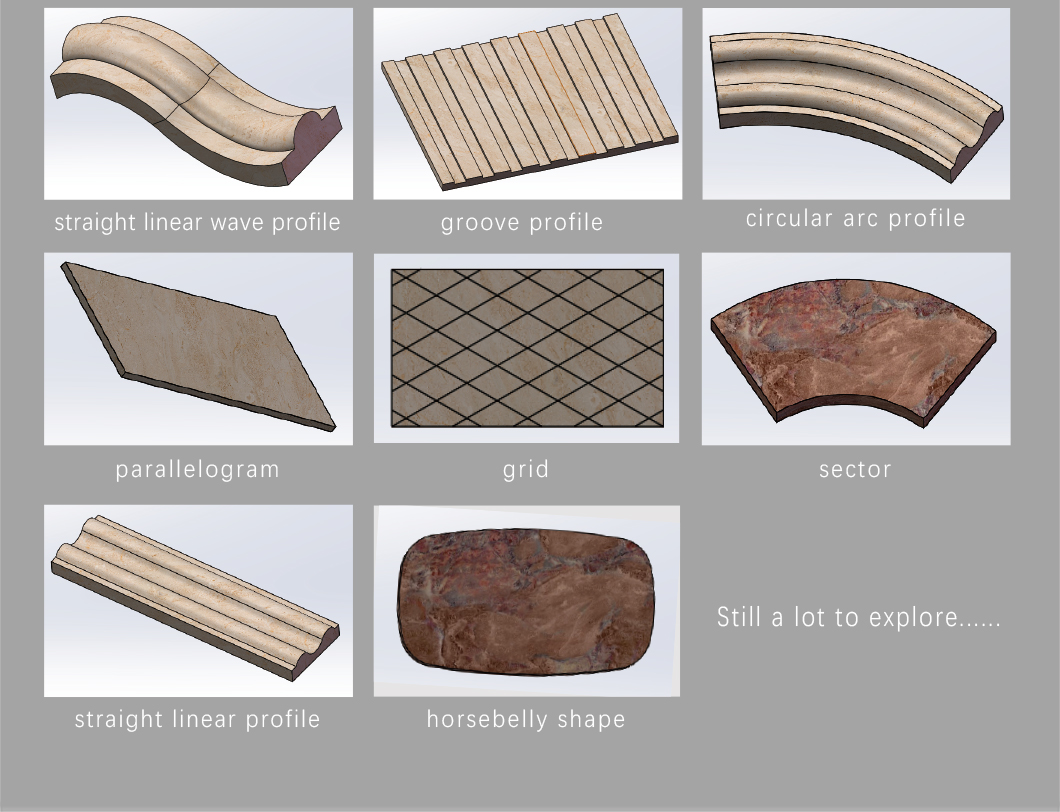 All kinds of shapes as: Circle, ellipse, Trapezoid, irregular shape countertop, polygon, parallelogram, Fanshaped, triangle …etc.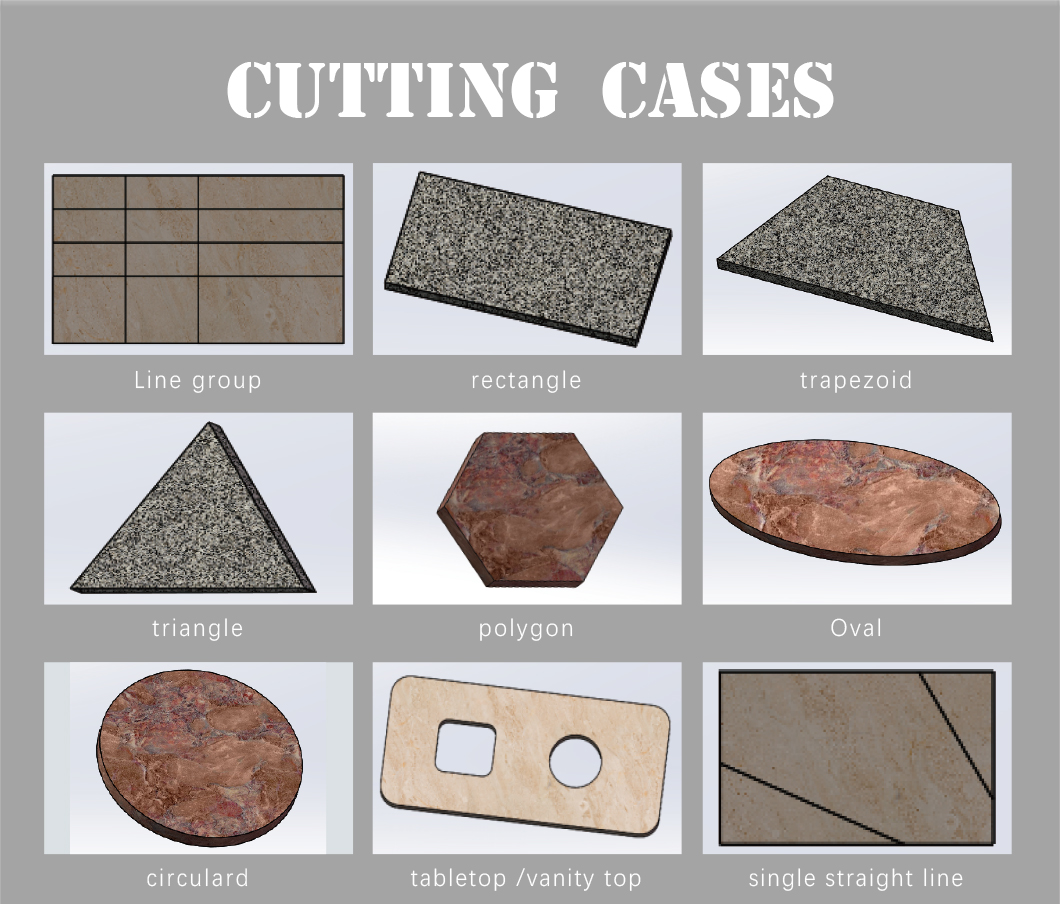 2. Configuration
2.1 Servo motor +high precision Reducer for XYZAC
---Qinchuan brand Precision robot reducer For A & C Axis
---TECHMECH Precision helical gear planetary reducer for X&Y& Z Axis.
---Double drive for Y axis to make sure high precision and stability.
2.2 HIWIN Ball screw for Z lifting(up and down)
2.3 HIWIN linear slide rail for XYZ moving.
2.4 All pneumatic parts from Airtac brand
2.5 Crossbeam,longern and machine base foundation are made of high strength and high stiffness Q345 material rectangular steel tube stiffened panels, The stiffness and stability of the equipment are ensured by finite element analysis.
2.6 Specially-made variable frequency spindle motor(for stone)
All above Configurations ensure the high operation accuracy, high reliability, high stability and long life of this 5Axis laser bridge saw .
3. Main technical Parameter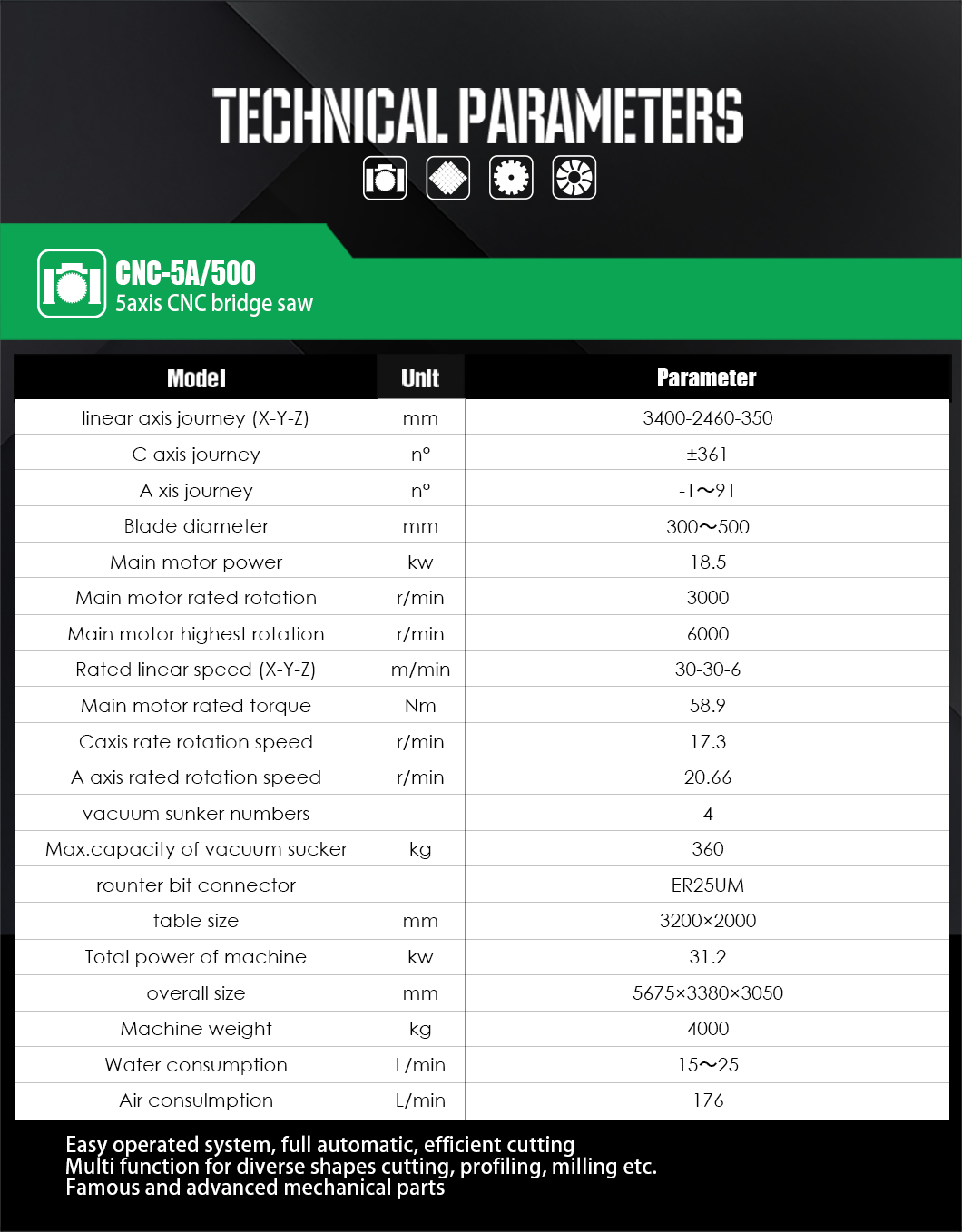 4. Main Advantages
4.1 Our 5 Axis laser bridge saw has Same function as Ialiano model, which has been commercial use maturely, and easy operation is very friendly for worker users.
4.2 Fast and high quality after salse service with lifelong free technology support.
4.3 Price Advantages, Wanlong would like to give up some part of profit by quoting only 25%-50% price compared with same function machine from Italian.
4.4 All important components like Reducer,ball screw, linear slide rail, Vacuum component, are used internation famouse brand with quality guarantee.
4.5 In view of the defects of vacuum generator and vacuum switch with many faults and short service life in the current market, a special design is carried out to effectively extend its service life.
4.6 The stiffness, vibration, noise and inertia are analyzed by finite element method. The structure is reasonable, Y axis adopts double drive form, the whole machine can be high-speed, smooth, accurate operation.